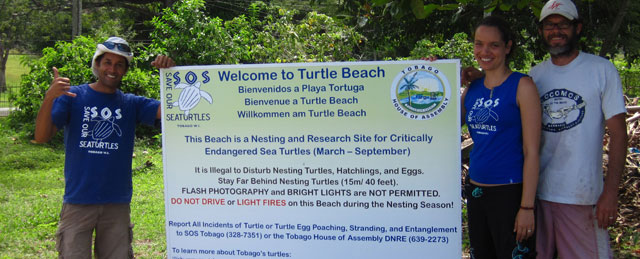 Our sponsorship program provides a perfect opportunity for corporate involvement!
These donations feed directly into our youth internship program enabling us to train, equip and employ young people from the community to patrol nesting beaches in their area during the seven peak months of the turtle nesting season (March-September).
In return, your company will receive a very special thank you package from SOS, including informational and promotional materials for your family or staff and direct acknowledgement in the local media and on our website and Facebook Page.
If you would prefer to make your donation 'in kind' please refer to our Wish List.
Hatchling Sponsor : $1500 TT (250 US / 150 GBP)
Hawksbill Sponsor : $3000 TT (500 US / 300 GBP)
Green Turtle Sponsor : $4500 TT (750 US / 450 GBP)
Giant Leatherback Sponsor : $6000 TT ( 1000 US / 600 GBP)
You can also make online donations online through the WIDECAST website.  Please remember that when making and reviewing your online payment, under the section 'Add Special Instruction to Merchant' to indicate "Please direct funds to SOS Tobago."